Hello I'am Luise. I live in the north of the black forest in Germany. In 2021 I earned my high school diploma and began my apprenticeship as a chemical laboratory assistant. My hobbies are swimming, climbing and singing.
Tell us what the water concern in your country is!
The drinking water supply and treatment in Germany has a very high standard. However good is not perfect. With the development of climate change the ground water levels are sinking even in our moderate climates. Locally there are high levels of nitrate and microplastics everywhere in our water bodies.
CONTACT WATERTANK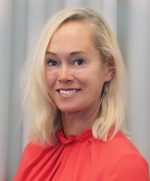 Ania Andersch
Programme manager