My name is Matias Canchig, I come from a small city in the Andean Region of Ecuador called Machachi. I am 15 years old. My main passion is scientific research about water, environment and astronomy. I see myself as "chagra", an original land boy who protects paramos and loves animals. This year I am the representative of Ecuador at the International Competition in Stockholm.
I am super excited about this opportunity, moreover I am the youngest participant ever to win the national contest in Ecuador. My main hobbies are playing volleyball and soccer, and my favorite player is Leo Messi.
Tell us what the water concern in your country is!
Clandestine water connections, being easy to implement, have the potential to become a major problem on a global scale for companies that provide drinking water, that is the case of the water provider of the city where I live.
This is what I think is one of the solutions for a sustainable future:
The detection of clandestine connections is a sustainable solution since my prototype is low cost and this gives us time to create other methods. The solution that I created helped to lower the rate of clandestine connections in the canton of Mejia, before we started it the loss of water was 45% now it is 35%.
CONTACT WATERTANK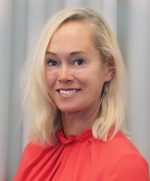 Ania Andersch
Programme manager