Hallo! I am Meinke and I'm 18 years old. In the fall of 2022 I'm starting at Delft University of Technology to become a systems engineer. My main focus will be on energy systems and how to renew them, which I am passionate about.
Because at the end of the day; we owe everything to this earth! And with the current challenges like global-warming and freshwater-scarcity facing our generation, I have a lot of motivation to start working on solutions!
The Stockholm Junior Water Prize offers a great platform to present ideas and meet likeminded students and professionals. All of this in support of our shared goal to ensure our shared future!
Tell us what the water concern in your country is!
Well... based on the current water levels The Netherlands should have been long gone and submerged by the North Sea. But by developing new mechanisms, such as The Delta Works, we have succeeded to defend ourselves from the sea so far. But keeping our feet dry remains our biggest challenge.
CONTACT WATERTANK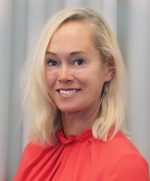 Ania Andersch
Programme manager