News
.
Nov 12, 2021
Huge success for Water Pavilion at COP26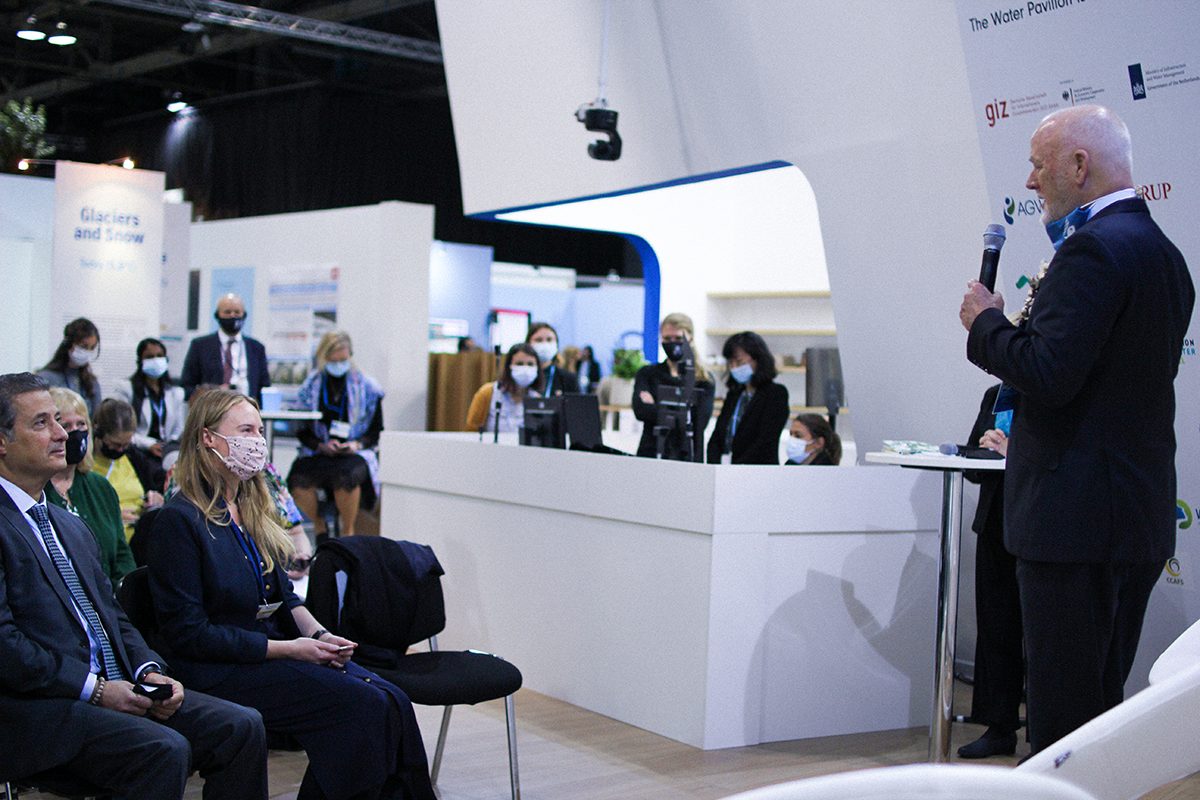 The jury is still out on the legacy of the climate meeting COP26, but the SIWI-led Water Pavilion can only be described as a resounding success. Over the course of two weeks, decision-makers and negotiators from all over the world have benefited from the pavilion's content and expertise.
To accelerate climate action, countries must understand the role of water and the powerful water-related solutions that exist. At the climate meeting COP26, the water community has for the first time been speaking with one voice, running a joint Water Pavilion in the negotiators' area the Blue Zone. The 100 sessions hosted have been met with great interest and led to numerous meetings and initiatives.
"We are very encouraged to see how more and more countries are starting to understand that water must be at the heart of climate policy and implementation. The Water Pavilion has helped decision-makers and negotiators hear about the latest scientific knowledge and best-practice examples from around the world," says Jennifer Jun, Senior Manager in SIWI's International Policy team who has led the development of the Water Pavilion.
A frequent topic in discussions at COP26 has been how decision-makers need better understanding of climate science to formulate more informed and evidence-based policies. Jennifer Jun feels that the Water Pavilion has helped fill that gap.
"We have also been able to more fully illustrate the power of water in climate action. Water is not only important for climate adaptation, but water is also essential for climate mitigation and can deliver significant emission cuts as SIWI's upcoming report on Water and Mitigation will demonstrate," she says.
Jennifer Jun is especially proud that the Water Pavilion has had such a strong digital interface, making the sessions available online to everyone across the world. The 100 sessions, across 11 themes, can be viewed on SIWI's Youtube channel.
SIWI hosted sessions on a broad range of topics, for example how countries can strengthen climate action with the help of water solutions; why youth must be involved in climate decisions; the role of sanitation in building climate resilience; how oceans can be protected through source-to-sea governance; the importance of gender perspectives in climate action; improved landscapes management as a climate solution, to name but a few.
The Water Pavilion was co-created by SIWI, the Alliance for Global Water Adaptation (AGWA), CDP, Global Water Partnership (GWP), and the International Union for Conservation of Nature (IUCN), mobilizing more than 30 organizations as core partners including the governments of Germany, the Netherlands, Scotland, Tajikistan, and the United Kingdom.
Water and Climate Pavilion at COP26
SIWI is leading a historic effort to mobilize the water community and partners in the global climate action community to debut the first-ever Water & Climate Pavilion at the COP26 UK in Glasgow.
Explore the Water Pavilion