Water is moving up the climate agenda
14 November was the first-ever official Water Day at the climate conference COP, with sessions across the conference focusing on water. This recognition of the cross-cutting nature of water gives hope for solutions that are both climate smart and water smart.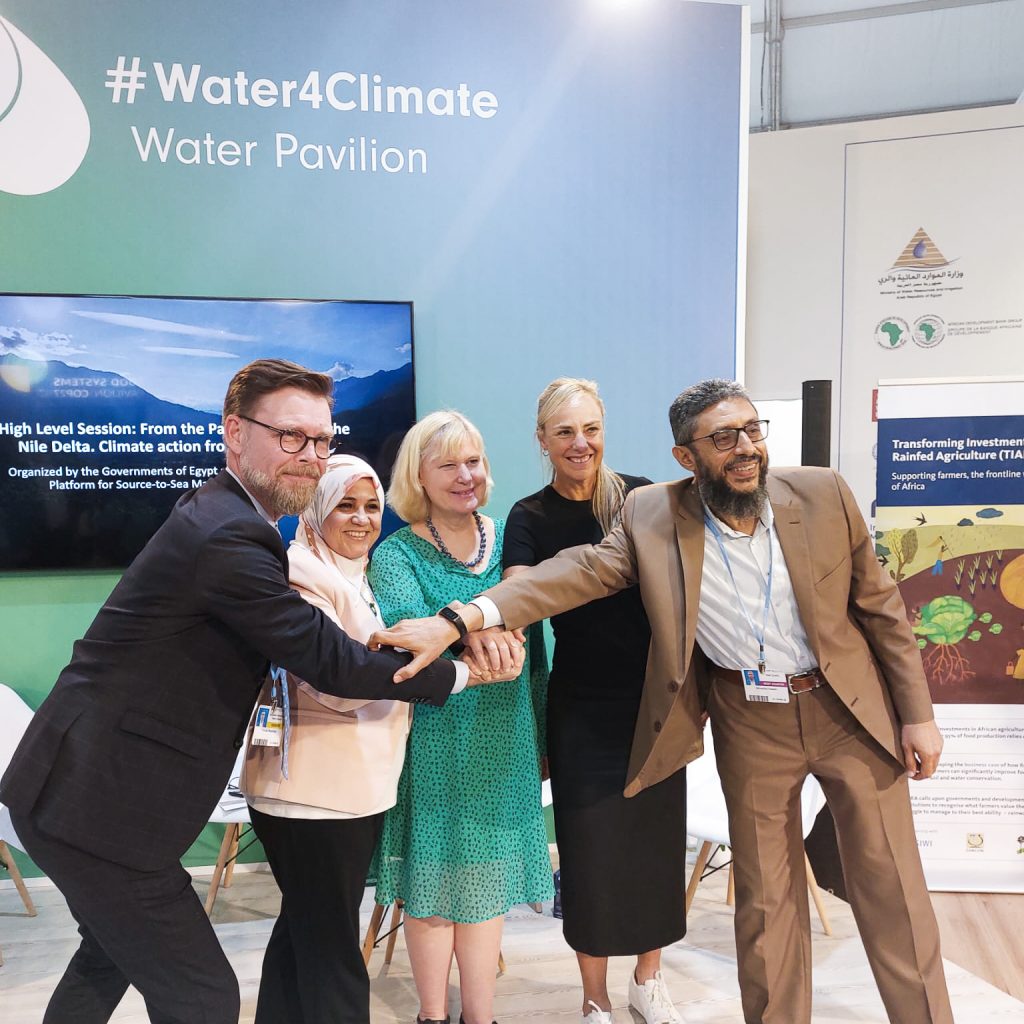 SIWI kicked off their water day with Executive Director Torgny Holmgren speaking alongside heads of governments and UN agencies, as part of the official programme. He emphasized the role of smallholder farmers as front line water managers. Later in the day, both Anton Earle and Xanani Baloyi advocating for a transformation of investment in rainfed agriculture to ensure food security in increasingly drier climates. During Anton's event at the Islamic Development Bank Pavilion we launched a short film on our TIARA project – watch the film "Catching Raindrops in Africa".
Ruth Mathews who, along with Josè Murillo, is championing a source to sea approach to climate action, has a busy Water Day. First taking part in a "Water Vulnerability of Communities Living in Fragile Contexts: Adaptation Barriers and Avenues for Improvement" at the Egyptian pavilion. Here, the conversation focused on challenges and opportunities to enhance water resilience in communities living in fragile and conflict affected contexts through holistic, integrated solutions & partnerships.
Report | The essential drop to Net-Zero: Unpacking freshwater's role in climate change mitigation
This is the first-ever summary of freshwater's role in climate mitigation shows how countries must rethink their climate strategies.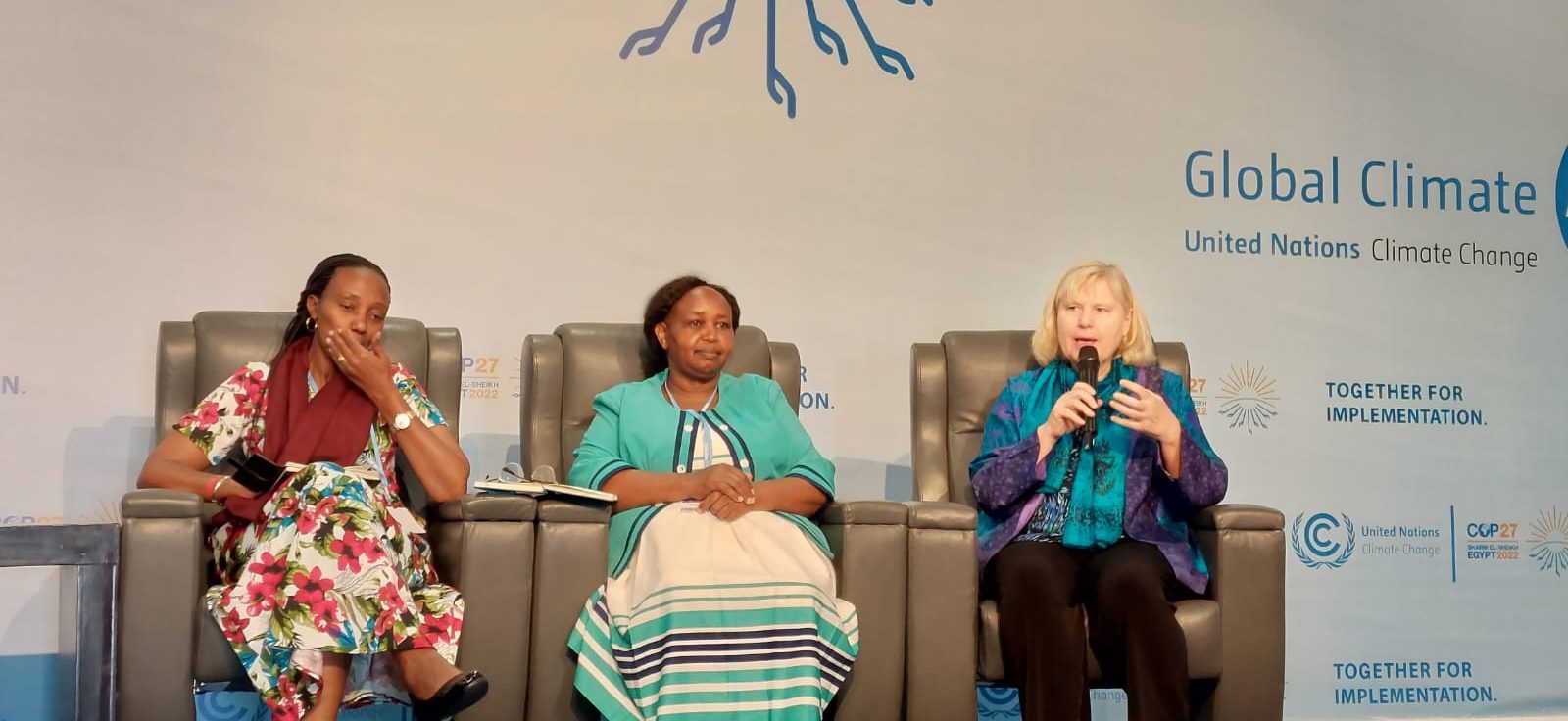 Ruth then joined a fireside chat as part of the Marrakech Partnership on Global Climate Action's Water Day activities. The event aims to show how water can contribute to tackling a broad range of climate-related issues. SIWI was proud to be one of the co-organizers of this event. Earlier during the conference, Ruth joined an event telling the audience: "Fragmented governance is halting progress. The solutions lie in adopting an integrated approach, like Source-to-Sea. That collaborative platform of knowledge can make sure that we create solutions that address the source-to-sea system as a whole.". The diversity of events SIWI experts joined during water day spoke volumes to the intersectional potential of water.
There is no denying that water is featuring more prominently than ever at COP27. Torgny noted that he has seen water focused on in every pavilion. This is thanks to tireless advocacy from SIWI and partners, giving water a voice in climate action. Later, during Water Day he made his way to the World Bank Pavilion for the event: Innovating, Planning, and Modernizing Irrigation and Water Resources Management for Climate Mitigation and Adaptation.
Malin Lundberg Ingemarsson, following the launch of the state of the art report she led which redefine water's role in climate mitigation, was joined by one of the report's authors for an event at the Nature Pavilion . Malin and Nureen Faiza Anisha (Lead Author, Chapter 5) spoke about the report emphasising to accelerate progress we must tackle the several crises that the world is facing at once. This demands work across sectors with multiple stakeholders, ensuring that countries and communities can participate in any climate action taken.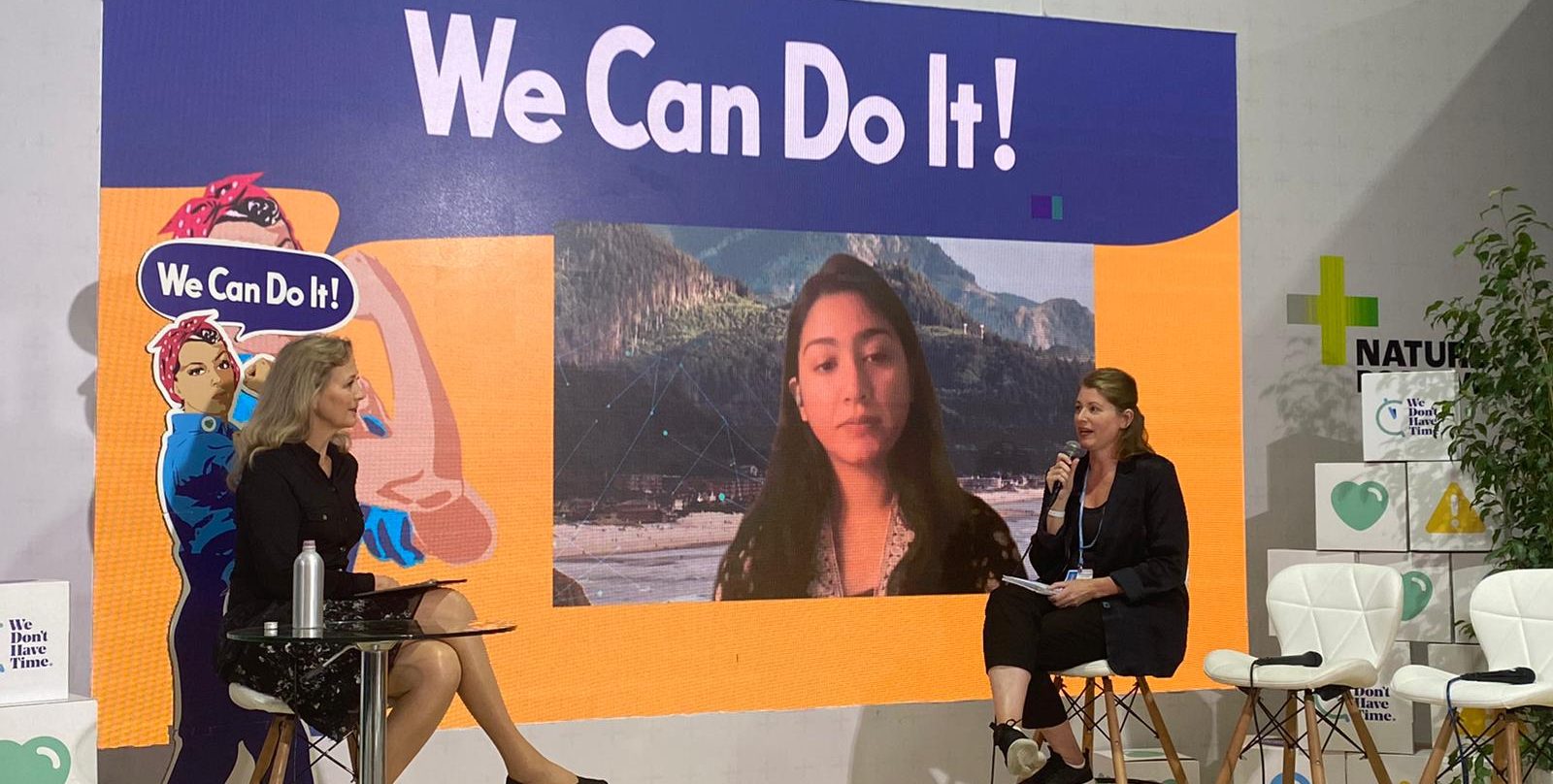 Malin noted that at this COP, many are starting to realize the power of nature, and its solutions. Many of technical solutions needed to futureproof go hand in hand with nature based solution. We cannot have one without the other, and often Nature-based olutions support the technical solutions. Considering the water factor in climate action,
This year's focus on implementation and adaptation are important drivers of a growing focus on water, as well as the new research showing the crucial role of water for climate mitigation.
Announcements and Initiatives during Water Day
As the conference focused its attention on water, there were several announcements and launches. Nigel Topping, the UN Climate Change High-Level Champion at COP26 compiled some of the most noteworthy:
The COP 27 Presidency launches the Action on Water Adaptation and Resilience Initiative (AWARe). This aims to put water front and centre of adaptation and resilience action by offering transitional adaptation solutions for the planet and people, starting with the world's most vulnerable communities and ecosystems in Africa. The initiative is arranged across three main priorities: 1) decrease water loss and improve water supply worldwide; 2) propose and support implementing mutually agreed policy and methods for cooperative water-related adaptation action and its co-benefits; and 3) promote cooperation and interlinkages between water and climate action in order to achieve Agenda 2030, in particular SDG6.
The African Cities Water Adaptation Fund (ACWA Fund) is a new Africa-focused blended finance instrument that aims to support the development and implementation of more than 200 projects in 100 African cities by 2032. Launched by the World Resource Institute (WRI) together with public and private sector partners, development banks, impact investors, state and non-State actors and experts, it supports city leaders to fund and scale high-impact water resilience solutions across Africa by leveraging private financing while better coordinating public sector funds alongside climate and development aid.
Signatories to the Glasgow Declaration for Fair Water Footprint today make a call to action to governments in both developed and developing countries, progressive businesses, financiers and NGOs to join this leadership initiative which puts climate resilient and equitable water management at the heart of the global economy by 2030. Inspirational action is already underway by Peru, Malawi, Madagascar, Finland, Panama, the UK, businesses, investors and civil-society across the coalition.
The Netherlands introduces the Champions Group for Deltas and Coastal Zones. The group enables harmonized action between countries and Small Island States to realize sustainable management of deltas and coastal zones in the short and medium term. The group will provide area-specific advice to countries on the integral implementation of their National Adaptation Plans (NAPs) or national climate adaptation strategies. An aspired outcome of these endeavors is a pipeline of sustainable projects for financial institutions. The group aims to contribute to ambitious outcomes at the UN 2023 Water Conference.
Join us at COP27
To share new knowledge about water and climate, SIWI will be taking active part in the global climate conference COP27 between 6 and 18 November. Join our programme online to learn about a promising new generation of climate solutions.
SIWI at COP27