The gender dimension of water and climate change
This policy brief, prepared by SIWI and Alliance for Global Water Adaptation (AGWA), is a contribution to the discussions and activities at UNFCCC meetings in order to improve understanding and application of gender and water knowledge in the climate arena.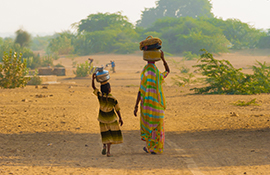 At the 22nd United Nations Framework Convention on Climate Change Conference of the Parties (COP22), a decision on "Gender and Climate Change" was taken by countries to underscore the importance of coherence between gender-responsive climate policies and the balanced participation of women and men in the Convention's processes.
Recommendations
These recommendations refer to the decision on "Gender and Climate Change" taken at COP22.
Given the gendered and hydro–dimension of climate adaptation and mitigation, parties and the Secretariat should consider these interlinkages in the technical expert meetings on mitigation and adaptation, in accordance with decision 1/CP.21, paragraphs 111 and 129; all in accordance with §16.
In response to §29, the water aspects of climate change and the gender-dimensions of its implications, should be considered in the in-session workshop aiming to develop a gender action plan, referred to in §27 and accordingly in §29. In addition, the water-climate connection should be considered and accordingly addressed in the Lima work programme on gender, as per defined in §6.
In response to §7, 8, and 9, parties need to ensure that training builds the capacity for equal participation among female and male delegates to actively take part in the UNFCCC meetings.
In accordance with §27, the SBI should consider the hydro-climate implication to a gender-related decisions and in the identification of priority areas.
In accordance with §11, 12, 13, 16 and 29, workshops and trainings should consider topics related to hydro-climate impacts and the link between water, gender and climate change. The technical paper, as per defined in §13, should suggest water as one entry point to be considered as a work stream under the SBI and its forty-eight session.