Weak governance and poor infrastructure of Kyrgyzstan's water sector is preventing a satisfactory supply of drinking water and sanitation services. It also an area in which the Government of Kyrgyz Republic has been experiencing significant challenges in meeting its commitments under international obligations.
There is a serious lack of information about the state and legal status of the water supply and sanitation systems. There is also a critical need of defining an adequate water and sanitation delivery model at decentralized level.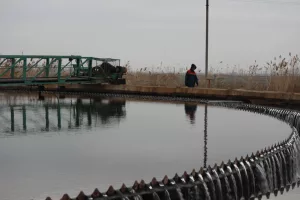 Goals
Improved sector coordination capacities of the Department of Drinking Water Supply and Sanitation (DDWSS) at the State Agency for Architecture Construction, Housing and Utilities of the Government of Kyrgyzstan.
Effective water supply and sanitation management systems is in place and operational in four communities.
Capacity of local water actors (both duty bearers and right holders) enhanced to apply effectively the principles of good governance, transparency, accountability and citizen participation in organizing water supply services in four communities.
Achievements
At the local level, GoAL WaSH strengthened the capacities of four CDWUUs in Osh (Salam-Alik and Kara-Kulja) and Batken (Kara-Bak and Dary) provinces, and raised awareness among the local populations. Project support has helped the CDWUU of Kara-Bak to increase its fee collection for drinking water from 37 per cent of total water cost in 2013 to 90 per cent in 2014.
In 2013, around 5,000 residents in the pilot communities had access to drinking water for only two hours a day. By 2014, following GoAL WaSH activities, this had increased to at least eight hours a day. Training material developed by the project helped to train staff in at least 50 schools, with the collaboration of the United Nations Children's Fund (UNICEF) through its Improving Access to Water Supply, Sanitation, and Hygiene in Schools Project, which had a budget of USD 75,000. Communities that had received capacity development by GoAL WaSH identified a need for the rehabilitation of local WaSH infrastructure. They also received co-financing from the Local Self Government Budget and a UNDP/The Coca Cola Company project (total USD 217,310).
The coordination entity (National Drinking Water Supply and Sanitation Council) developed a national WaSH strategy and arranged cooperation among development partners and water stakeholders. By January 2019, all ten regulatory documents developed with the support of GoAL WaSH had been endorsed by the government.
The National Coordination Commission for Water Supply and Sanitation and the new rural statistic reporting – both supported by GoAL WaSH – improved confidence in the sector and provided an evidence base for investment. As a result, the World Bank committed USD 2.8 million to fund the Third Rural Water Supply and Sanitation Project.
Information and training materials developed by GoAL WaSH will be used for capacity building in 30 villages in Osh province (UNDP Integrated Development of Osh Province project, budget USD 3.5 million). Data collection through the statistical form played an essential role in facilitating drinking water policy improvement. Overall results of timely, comparable, and coherent data from this form helped to adjust the Action Plan of the National Strategy of Drinking Water Supply and Sanitation. The Department of Drinking Water and Sanitation directed funds to the most needed and vulnerable areas. The form reporting results provide an opportunity for annual adjustment of strategic action plans, both at the national and local levels. For example, the local self-governments will use the data for the strategic development plans. The collated information will provide a clearer picture of the state of infrastructure, peoples' access to drinking water, and the broader socio-economic situation.
Central and Eastern Europe