Stockholm Water Front No 3 2015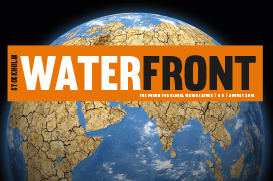 In this jam-packed WaterFront issue, extra thick to celebrate the 25th jubilee of both World Water Week and Stockholm Water Prize, we have tried to approach some of the issues that we believe will be on top of the global agenda in the future.
Experienced water writer James Workman has taken on the subject of dryness in the cover story, Our shared thirst. SIWI's China experts untangle the giant's new water action plan in the analysis Slowing down, Cleaning up – China seeks a new normal. In her Opinion, Malin Falkenmark underscores the importance of managing rainwater in sub-Saharan Africa.
And, you will meet our Water Heroes. Together they prove that a person who is passionate about water and positive change can hail from anywhere, have any background.
During the last few months, SIWI has run a campaign about The World's Best Water Ideas. Based on suggestions from the public and experts, we selected ten water ideas that are now subjected to online voting. The voting will be open well into World Water Week, and the top ideas presented as the Week draws to a close.
We hope these pages will serve as an inspiration for discussions during World Water Week and beyond.