Women Water Champions: A compendium of 41 women stewards from the grassroots
Gender equality and social equity in water management provide a pathway to enhance efficiency, ingenuity, integrity, and sustainability, and yet, women are visibly missing from community leadership and decision-making around water.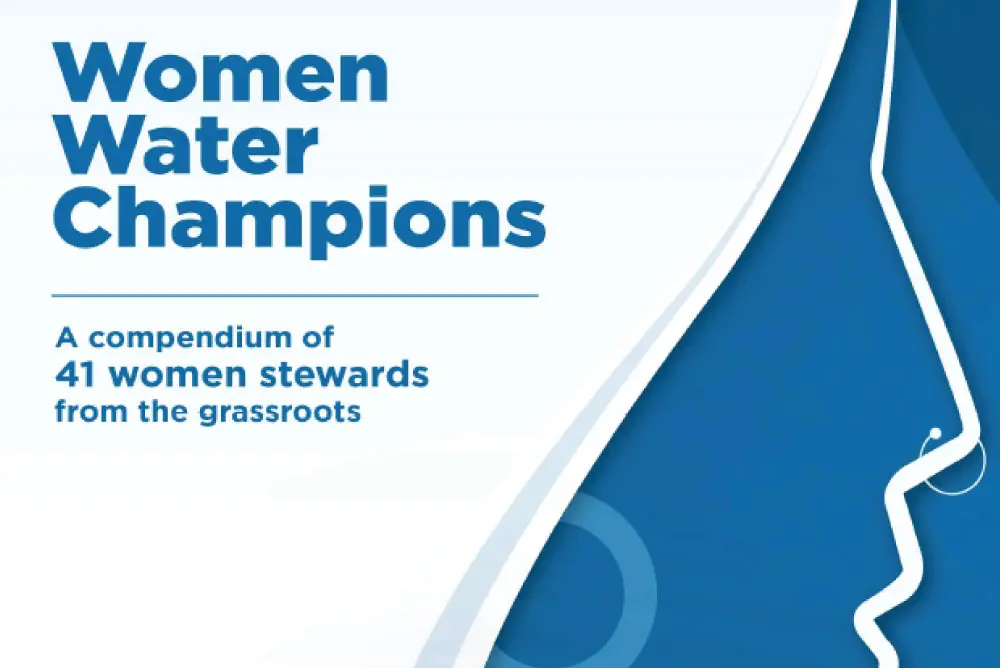 Without the voices and perspectives of women from the community, we lack critical insights from knowledgeable water stewards and representatives of half the population. These insights and overall representation are crucial for effective water governance. Towards this UNDP India with support from WGF's GoAL -WaterS programme, initiated the Women Water Champions (WWC) to acknowledge and recognise the critical role of women in water conservation and management, and in an effort to promote women's leadership in water governance.
Under this WWC initiative, a compendium has been developed, documenting the journey of 41 women water stewards from the grassroots in India, who are improving access to and efficiency in water availability and use, and in water conservation and governance.
These women are from different regions, from the remotest of villages and tribal belts in the country, from different socio-economic and educational backgrounds. It covers nearly 14 states in India: Andhra Pradesh, Assam, Bihar, Haryana, Gujarat, Jharkhand, Maharashtra, Madhya Pradesh, Odisha, Rajasthan, Tamil Nadu, Uttarakhand, Uttar Pradesh, West Bengal.
The works range from mobilizing communities on water conservations, flood management, promoting and practicing water use efficiency, creating rainwater harvesting infrastructure, irrigation water management and improving agricultural productivity, restoration of groundwater, awareness building in clean drinking water, leading water user groups, and working towards sustainable development. These pathbreaking works highlight that these women have not only secured their livelihoods and protected their communities through environmentally sound and sustainable practices, they have often also helped to further empower other women, upscale the activities and bolster economic opportunities for many.
A detailed and thorough process was followed to identify the water champions.
The organisations working with women and on gender and water management at the local levels across the country were mapped and reached out to send nominations of women known to them who are doing exemplary work to solve water issues of their village/region based on a set eligibility criterion. The nomination process encompassed a detailed nomination form, testimonials, videos/photos, and interviews to validate their work. More than 60 nominations were received and were reviewed based on the defined selection criteria by UNDP and SIWI.
The selection process included criteria across five different themes and 17 sub-themes. The key themes included:
Water Conservation, Governance and Management
Water Quality Improvement and Management
Water Access and Supply
Waste Water Treatment and Management
Water Sanitation, and Hygiene
This WWC compendium is only a first step in documenting and recognising women's participation in the water sector, among many others who are breaking gender barriers in water management. It will be widely disseminated towards influencing peer-to-peer learning and efforts will be taken to continue recognizing many more path-breaking efforts towards improved water governance and improving their participation in decision-making processes.
This report is published by UNDP India. UNDP-SIWI Water Governance Facility (WGF)'s under the GoAL Waters programme, with support from Sweden, provided funding and technical expertise to UNDP India in this WWC initiative.