My research project is founded in my curiosity of how we with modern technologies can make sustainable use of marine resources, including sustainable management of fisheries and aquaculture. Therefore, I will investigate how we, with the least environmental impact, utilize the sea's benefits in the development of an efficient and sustainable aquaculture that will contribute to a sustainable development of the aquaculture sector in Denmark. The focus of my project is the development of an aquaculture system where different organisms such as mussels, algae and cultivated fish live in a nature-like ecological system as an alternative to traditional fishing and conventional fish farms.
This is how I came up with the idea for this project:
I am very interested in exploring possible solutions for some of the challenges that we face today. I am especially committed to developing solutions for conventional fish farming so that development go hand in hand with protecting the environment so that the sea's unique biodiversity and valuable ecosystem are preserved.
CONTACT WATERTANK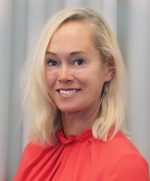 Ania Andersch
Programme manager