Accidental spills of oil products and the release of oil products into water bodies can also lead to deterioration of health and life of the population. Are there effective, affordable, environmentally friendly ways to eliminate oil pollution? What natural materials are the most effective for removing oil and gasoline from water surfaces? The search for answers to these questions became the main reason of our research.
Hypothesis: plant fibrous materials can be used for the sorption of petroleum products when they enter water bodies.
Thus, the hypothesis that it is possible to find available plant materials with the help of which it is possible to collect effectively oil and oil products from the surface of the water has been confirmed.
This is how I came up with the idea for this project:
We live in the city of Borisov, through which the big river Berezina flows. Walking along the banks of the river, we often noticed the presence of oil pollution. The source of this pollution can be road transport, railways (oil tanks and other sources of pollution), careless handling of oil waste, industrial emissions and other sources. On the one hand, the best solution is to keep oil pollution out of the water. On the other hand, we don't have many resources. to influence it. Therefore, the solution to the environmental problem can be the extraction of waste from water with their subsequent safe disposal. We decided to devote our time to finding a technical solution to this problem.
The use of plant materials as sorbents of petroleum products
Accidental spills of oil products and the release of oil products into water bodies can also lead to deterioration of health and life of the population. Are there effective, affordable, environmentally friendly ways to eliminate oil pollution? What natural materials are the most effective for removing oil and gasoline from water surfaces? The search for answers to these questions became the main reason of our research. Moreover, the problem is very urgent for Belarus. Objects of the research: plant fibrous materials in the form of fluff from field thistle (Cirsium arvense L.) and broad-leaved cattail (Typha latifolia L.) blossoms, as well as a sorbent based on a combination of natural components used in rescue work. The subject of the research is the process of adsorption of petroleum products by various natural materials of plant origin. Hypothesis: plant fibrous materials can be used for the sorption of petroleum products when they enter water bodies. To solve this problem and confirm the hypothesis, the following goals and objectives were set. Research objectives: 1. Show the destructive effect of oil on living organisms; 2. Consider the existing methods of purification water from oil and oil products; 3. Select plant fibrous materials that can be used as sorbents; 4. Test the collected natural materials for the possibility of cleaning water bodies from oil products with their help, assess their effectiveness in purification water from pollution; 5. Analyze the results. The topic and plan of the research, its content were developed together with the managers Olga Mlynchik and Alexey Zhakhovsky under the guidance of our consultant, candidate of technical sciences, professor of the department of special training, the head of the chemical laboratory of the Institute for Retraining and Advanced Training of the Ministry of Emergency Situations of the Republic of Belarus Olga Gorovykh. The novelty of the research lies in the fact that the data obtained make it possible to indicate the possibility of using plant fibrous materials (cattail and thistle fly) for effective water purification from oil and oil products. These natural materials can serve as an alternative to the existing sorbents used by rescuers in their work. The work consists of a theoretical part (information sources review) and a practical part (description of the experiments conducted). The bibliography contains links to Internet sites, the materials used in writing the work, and books by Russian authors. The work contains tables reflecting the results of the experiments and photographs illustrating the course of the experiments. 1.Oil and its refined products often end up in various water bodies along with wastewater or as a result of accidental spills. Water dramatically loses its quality when contaminated with even a small amount of oil. Subsequently, partial or complete destruction of the ecosystem may occur. 2.One of the effective ways of cleaning water bodies from oil products is the use of sorbents. Sorbents should have a large surface that will absorb oil products. The sorbent must also have high buoyancy and be able to keep oil products on the water surface for a long time. In the Republic of Belarus, a mixture of peat, straw and wood is used. The properties of other natural materials are just beginning to be studied in the chemical laboratory of the Ministry of Emergencies. 3. The best natural sorbents are those plants that have fluff, fuzz and hairs. These include cattail, moss, thistle , etc. 4.Studies have shown that cattails and thistle can serve as an alternative to a sorbent made of peat, straw and wood, which are used by rescuers during their work, since with sufficiently high hydrophilicity they have the highest oil capacity and can stay on water surface for a long time. 5. Fluff of cattail by its characteristics has an advantage over other sorbents: - water contaminated with oil becomes practically pure if cattail flyings are placed on the surface of contaminated water; - has the highest oil capacity of all tested natural materials - fluff of cattail has high buoyancy. - the extraction of oil from cattail showed the possibility of its removal from the sorbent, after which the sorbent can be used again, and more than once. - cattail fluff is easy to collect; the plant grows in sufficient quantity on the territory of the Republic of Belarus. Thus, the hypothesis that it is possible to find available plant materials with the help of which it is possible to collect effectively oil and oil products from the surface of the water has been confirmed. PRACTICAL RECOMMENDATIONS Cattail flyings (Tupha latifolia L.) can be used as an alternative to the sorbent, which is currently used by rescuers to eliminate oil spills from the surface of water bodies. In the industrial production of sorbent from cattail, it is possible to propose to make spunbonds filled with cattail fluff. At the same time, spunbonds, in our opinion, can be used repeatedly after the collected oil has been squeezed out. Spunbonds should be cost effective to manufacture. But since the production of such a sorbent will be possible only in limited quantities, we suggest using it in parallel with the existing sorbent, which is currently used in the territory of the Republic of Belarus. It is possible to offer the production of removable filters for purification of waste water from chemical enterprises from oil refined products. PROSPECTS FOR FURTHER WORK DEVELOPMENT In further work on this topic, it is planned to calculate the costs of producing a sorbent based on cattail, considering the work from an economic point of view. And also to study the amount of oil products absorbed by filters based on cattail and the duration of use of one filter, to find the cost of pressing oil from filters and the economic benefits of producing such filters for small industrial enterprises
CONTACT WATERTANK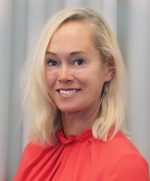 Ania Andersch
Programme manager