Hi, I am Mishal Faraz, and I am 15 years old, born and raised in the United Arab Emirates. A passionate believer in global citizenship and collective responsibility to make the world a better place through innovation and collaboration, I am always looking for opportunities to imbibe new learning – the quest to learn is indeed the journey of a lifetime. I've been a dedicated environmentalist since the past 8 years and emphatically believe that each one of us holds the power to change the world for the better and that it is small actions by individuals which add up to huge, impactful, cumulative results which will make our planet a more sustainable, inclusive, and equitable place.
Tell us what the water concern in your country is!
UAE has one of the highest consumptions of single-use water bottles per capita in the world. A typical UAE resident uses 450 plastic bottles every year, bringing the net number to four billion plastic bottles for the entire country.
This is what I think is one of the solutions for a sustainable future:
All efforts, big and small, on the part of individuals, organizations, and nations, have to unite to spark an unrelenting campaign to safeguard our planet while appreciating its uniqueness and singularity, and at the same time, comprehending its fragility.
CONTACT WATERTANK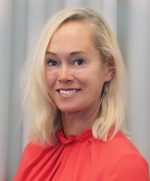 Ania Andersch
Programme manager