heading
1995: WaterAid, Great Britain
Every day, around the world, 25,000 children die as a result of infections spread by contaminated water. Two billion people are daily at risk of contracting water-borne diseases. Eighty per cent of all ill health in the world is due to poor-quality water and inadequate hygiene.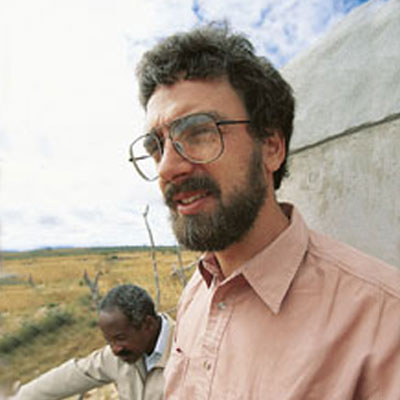 The British charity WaterAid provides education in water hygiene for poor people. But before starting to educate the population of a village, it first makes sure they have a permanent supply of clean water. This tangible change tends to convince the village women – who are the main focus of the organisation's efforts – better than words. A fundamental element in its approach is to reduce the distance they have to go to get clean water. In Britain, householders receive, along with their water bills, an invitation to support WaterAid's projects. The water companies, which were among the organisations that set up the charity, have every confidence in its work and are happy to let it send out such an appeal to the 23 million households they supply.
In fact, WaterAid has gained respect at every level, among governments, the aid establishment and local communities. And in 1995 it also gained the respect of the Nominating Committee for the Stockholm Water Prize, which chose WaterAid as that year's winner. The award was collected by the charity's then-director, Jon Lane.
The organisation owes its success to its down-to-earth approach. It collaborates with villagers and with water and health ministries. It tries to draw on local knowledge, and to use straightforward, practical methods and technologies, which need to be cheap but effective. Another important aim in every project is to ensure that local people develop a sense of responsibility for their limited water resources, for example by having to pay a charge for every bucket of water they collect. This money, paid into a communal bank account, is used to maintain pumps and supply points.
In the projects supported in Tanzania, a driving force has been what are known as 'wamma' teams – made up of people from WaterAid and the Ministries of Water, Health and Community Development. These teams convene village meetings about the projects, help villagers to set up water committees, and employ supervisors and pump technicians. They also organise education for villagers in water conservation and hygiene.
WaterAid is seeking to provide 'sustainable development assistance' – assistance which does not simply dry up when the pump breaks down, but goes on working in the long term. Its strategy includes handing over full responsibility for projects to villagers and wamma teams, once they have learnt how to manage their own water. By 1995, three million people in the Third World had gained access to an ample supply of clean drinking water thanks to projects supported by WaterAid. In Tanzania, more than half a million people who had previously lacked a sufficient water supply were helped over the period 1983–95.
WaterAid's methods in Tanzania and twelve other African and Asian countries have proved to be an effective way of tackling the worldwide problem of poor-quality water. Since receiving the award, WaterAid has increased its water, sanitation and hygiene delivery programmes and estimates that a cumulative total of over 8 million people in Africa and Asia have benefited by its safe water services. The Prize money was used to set up a dedicated research policy and advocacy department which has provided evidence based work at country and international levels to make the case for increased investment in equitably distributed, technologically appropriate and sustainable water and sanitation services in pursuit of the Millennium Development Goals.