heading
Dr. Rita Colwell, distinguished Professor from the University of Maryland and Johns Hopkins University's Bloomberg School of Public Health in the United States, has been named the 2010 Stockholm Water Prize Laureate. Dr Colwell's pioneering research on the prevention of waterborne infectious diseases has helped protect the health and lives of millions.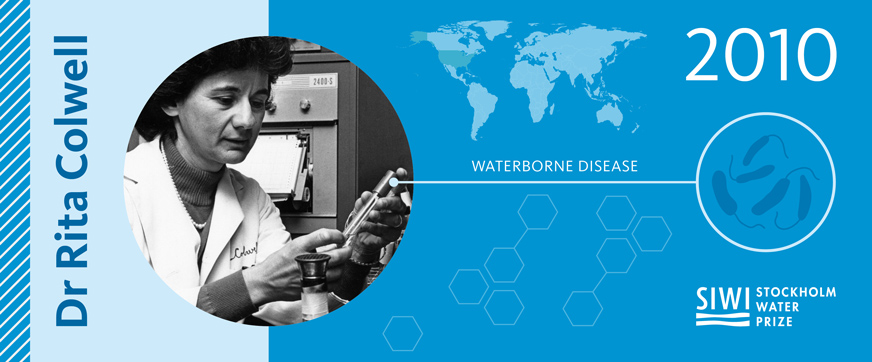 Dr. Colwell, 76, is widely recognized as one of this century's most influential voices in science, technology, and policy associated with water and health. She has made exceptional contributions to control the spread of cholera, a waterborne pathogen that infects 3 to 5 million people and leads to an estimated 120,000 deaths each year. Through her groundbreaking research, innovations and decades of scientific leadership, she has defined our current understanding of the ecology of infectious diseases and developed the use of advanced technologies to halt their spread. Her work has established the basis for environmental and infectious disease risk assessment used around the world.
"Dr. Rita Colwell's numerous seminal contributions towards solving the world's water and water-related public health problems, particularly her work to prevent the spread of cholera, is of utmost global importance," noted the Stockholm Water Prize Nominating Committee in its citation. "Through her research on its physiology, ecology, and metabolism, Dr. Colwell advanced the fields of mathematics, genetics and remote sensing technology and not only as they relate to these bacteria but to the prevention other diseases in many developing countries."
A Lifelong Career Fighting Cholera
In the 1960's, Dr. Colwell observed that the causative agent for cholera, Vibrio cholera, could survive by attaching to zooplankton. This led to her groundbreaking discovery that certain bacteria, including the Vibrio species, can enter a dormant stage that could revert to an infectious state under the proper conditions. This means that even when there are no disease outbreaks, rivers, lakes and oceans can serve as reservoirs for these bacteria. These findings counteracted the conventional wisdom held that cholera was only spread from person to person, food or drinking water and that its presence in the environment could only be due to the release of sewage. As a result of her work, scientists are now able to link changes in the natural environment to the spread of disease.
Defining the New Climate for Disease Prevention
Dr Colwell has shown how changes in climate, adverse weather events, shifts in ocean circulation and other ecological processes can create conditions that allow infectious diseases to spread, and through that link she has led the ability to craft preemptive policies to minimise outbreaks. Her research in the Bay of Bengal in Bangladesh, for example, demonstrated that warmer surface ocean temperatures have stimulated the growth of cholera-hosting zooplankton and directly led to an increase in the number of cholera cases. In the United States she was the first to lead research experiments on the impact of El Niño on human health and the aquatic environment. In the 1990s, Dr. Colwell was the first scientist to research the impacts of climate change on the spread of infectious diseases. She serves on dozens of international panels, including the Global Health Assembly, and as a top government public health advisor on adaptation strategies to climate change.
Saving Lives with Low-Cost and High-Tech Innovations
Throughout her career, Dr Colwell has bridged the forefront of science and technology with a lifelong dedication to craft practical solutions to provide access to clean drinking water and protect human and ecosystem health. She has helped create and lead the study of bioinformatics, a field that combines biology, computer science and information technology and has exponentially advanced the understanding, diagnosis, treatment, and prevention of many genetic diseases. She has also led the adoption of remote sensing technology to track the movement of diseases globally. Dr. Colwell developed the first model that applied remote satellite imaging to track and predict outbreaks of cholera before they occur. This model has become the archetype for infectious disease monitoring and prevention used around the world.
A Lifetime of Scientific Leadership
Dr. Colwell was born in Beverly, Massachusetts, in the United States in 1934. She has authored or co-authored 17 books and more than 700 scientific publications. Over the years, Dr. Colwell has worked extensively to spread community-based water safety education and viable, low-cost technological innovations in communities throughout South Asia and in Africa. During the cholera pandemic in Latin and South America in the 1990s, Dr. Colwell's worked as national advisor to multiple governments. In Ecuador, her discovery of the presence of Vibrio cholerae in the hospitals and in the shrimp industry saved countless lives. In Peru, she was honored by the national government for her work to develop of drinking water criteria that helped guide policies to curb the spread of the disease.
Dr. Colwell has held many advisory positions in the U.S. government, in non-profit science-policy organizations, within private foundations, in the international scientific research community. She was appointed by President Bill Clinton as the first woman to serve as Director of the National Science Foundation (NSF) from 1998 to 2004. In 2000, she was inducted into the United States National Academy of Sciences. A passionate educator, some of her major interests include primary and high school science and mathematics education, graduate science and engineering education, and the increased participation of women and minorities in science and engineering.