2011: Professor Stephen R. Carpenter
Professor Carpenter's ground breaking research has shown how lake ecosystems are affected by the surrounding landscape and by human activities. His findings have formed the basis for concrete solutions on how to manage lakes.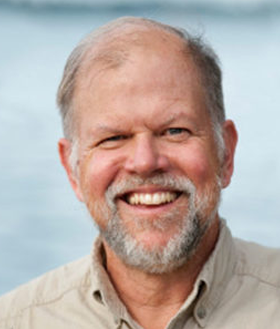 Professor Carpenter, 59, is recognised as one of the world's most influential environmental scientists in the field of ecology. By combining theoretical models and large-scale lake experiments he has reframed our understanding of freshwater environments and how lake ecosystems are impacted by humans and the surrounding landscape.
The Stockholm Water Prize Nominating Committee emphasises the importance of Professor Carpenter's contributions in helping us understand how we affect lakes through nutrient loading, fishing, and introduction of exotic species.
"Professor Carpenter has shown outstanding leadership in setting the ecological research agenda, integrating it into a socio-ecological context, and in providing guidance for the management of aquatic resources," said the Stockholm Water Prize Nominating Committee.
Linking lake and land
Professor Carpenter is best known for his research on trophic cascades in lakes – a concept which describes how impacts on any species in an ecosystem will cascade down, or up, the food chain. For example, overfishing of large fish in a lake can result in an increase of small fish, thus decreasing the abundance of zooplankton further down the food chain. In extension, this would increase the growth of algae and amplify the effects of eutrophication.
Those findings have influenced concrete strategies for dealing with eutrophication and have provided a practical framework for the management of freshwater resources, resulting for example in the understanding that it might not be enough to reduce the emissions of nutrients to a lake in order to overcome the problems, but that one might need to change the composition of the fish community as well. In addition, Professor Carpenter's research has proved to have broad applicability to other ecosystems than lakes.
Learning by doing, leading by example
Known amongst his peers in the scientific community for his creativity and enthusiasm, Professor Carpenter's work combines different scientific disciplines and approaches. By seeking collaboration outside of academia, he has managed to link research to both policy and practice. A source of inspiration both to those within his field and outside, Professor Carpenter is one of the most cited ecologists worldwide. He has supervised numerous students throughout the years, and has helped many in developing innovative field research experiments.
On receiving the news, Professor Carpenter said: "I am thrilled. Many great people have received the prize over the years, and there are many others whose work is worth rewarding. It is a great honour to be selected. The prize will increase my resolve and sense of obligation to work on emerging issues of freshwater, such as climate change and the connections of food and water security."
More about Stephen Carpenter
Professor Carpenter serves as the Director of the Center for Limnology at the University of Wisconsin-Madison and Stephen Alfred Forbes Professor of Zoology. He is a member of the US National Academy of Sciences, a fellow of the American Academy of Arts and Sciences, a foreign member of the Royal Swedish Academy of Sciences, and a affiliate of the Chinese Academy of Sciences. He has played a leading role in the Millennium Assessment – a global assessment of the health of the world's ecosystems and is the co-Editor in Chief of the well known journal "Ecosystems".
Born in 1952, Professor Carpenter lives in Madison, Wisconsin. He holds a Ph.D in Botany/Oceanography and Limnology from the University of Wisconsin-Madison.