Swedish Water House connects Swedish and international water stakeholders from different sectors to facilitate learning and collaboration.
Swedish Water House is an impartial platform for all actors interested in international water issues. The aim is to bridge the gap between science, policy, and practice, by creating meeting places for dialogue, cooperation, and knowledge exchange.
Swedish Water House organizes seminars and workshops on a broad range of water related issues. The team facilitates multi-stakeholder platforms that bring together stakeholders who want to improve water management within their sector through long-term collaboration.
Contact us
engage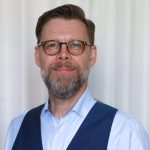 Thomas Rebermark
Director
Swedish Water House
Areas of expertise

When Swedish Water House was first established in 2003 by the Government of Sweden, the aim was primarily to support Swedish stakeholders with expert advice on global water issues. Today, the team works more broadly to support international policy development and cooperation in the water and development field. This is done through partnerships and by generating and disseminating knowledge.

The Swedish Water House team has vast knowledge on development and sustainability issues from a variety of perspectives. Some of its members, who constitute the International Policy team, work actively to promote water perspectives in international processes linked to for example the 2030 Agenda and the Paris Agreement on climate change. Swedish Water House colleagues also generate and share knowledge on topics such as sustainable landscape management and the role of water for climate mitigation and adaptation.

Swedish Water House also has expertise on topics such as sustainable landscape management, water and finance. The team support the private sector to adopt more water-wise practices in the manufacturing of for example textiles and pharmaceuticals.
Activities

Swedish Water House is active in many different fields, often in collaboration with partner organizations. Key activities include the hosting of multi-stakeholder platforms that bring water stakeholder together to find solutions and make a change. Over the years, these long-term partnerships have evolved into long-term projects.

Swedish Water House produces a range of publications within the thematic scope of these multi-stakeholder platforms and projects. The team also disseminates knowledge through Swedish Water House's popular webinars.
The Swedish Water House team
Learn more
The Swedish Water House provides meeting places for innovative thinking on emerging issues, knowledge dissemination and multidisciplinary policy development concerning the global water situation.
Visit the Swedish Water House platform