PROJECT: GOVERNANCE, ACCOUNTABILITY AND LEARNING FOR WATER SUSTAINABILITY (GOAL-WATERS)

India
Creating a Community of Practice-interface for the Indian government around #WaterMatters: Agenda 2030 & Women in Water Governance.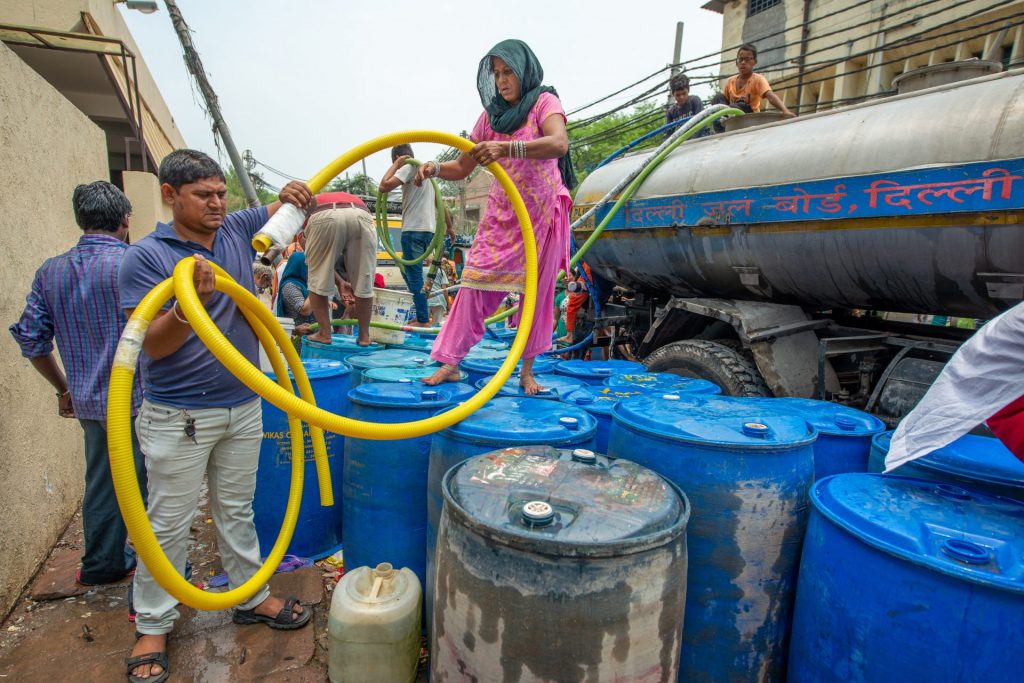 The main goal of this project is to improve water management and governance in India as a step towards sustainability and social inclusion.
Countries
Countries
The project is present in these countries
When it comes to water, most of the action plans and implementation of schemes happen at state level. So, it is crucial that the systems, institutions and governance mechanisms are strengthened at both national and subnational levels.
The proposed program intends to address some of the challenges by strengthening co-operation around efficient water management among multiple stakeholders at national, subnational and local levels; sharing knowledge through cross-learning events or workshops; and producing water policies and programmes where feasible.
Knowledge-sharing platform
A knowledge-sharing platform will be created on #Water Matters: Agenda 2030, which aims to bring together all relevant partners on a single platform to plan strategies and actions to move towards the common goal of water security and access.
The strategy focuses on two main areas to address the challenges.
The first focus area is to develop a community on #Water Matters: Agenda 2030 – a multi-stakeholder partnership platform to bring together like-minded organisations to discuss and inform policy and decision making.
The second area focuses on developing a portfolio that boosts recognition of women leaders/champions in water management and governance and encourages their training.
Achievements
The Community of Practice online platform on the #Water Matters: Agenda 2030 has been active since 2020. It facilitates the sharing of information and solutions to address the daunting water management challenges in India. A group of professionals (organisations and experts) informally bound to one another through exposure to a common class of problems, common pursuit of solutions, and thereby embodies a store of knowledge around water governance and integrated water resources management in India.
One of the main themes of the Platform is on Women Leadership, where grassroots women leaders in water conservation and management are recognized and provided a platform for amplifying their voices. As part of this a Women Water Champions (WWC) Compendium was developed.
The Compendium documents the journey of 41 women water stewards in India, recognizing and promoting women's leadership in water governance. A detailed process was followed to identify the champions, which covers nearly 14 states in India.
The works range from mobilizing communities on water conservation, flood management, creating rainwater harvesting infrastructure, irrigation water management and improving agricultural productivity, restoration of groundwater and leading water user groups.
The Compendium highlight that these women have not only secured their livelihoods and protected their communities through environmentally sound and sustainable practices, they have often also helped to further empower other women, upscale the activities and bolster economic opportunities for many.
This WWC compendium is only a first step in documenting and recognizing women's participation in the water sector, among many others who are breaking gender barriers in water management. It will be widely disseminated towards influencing peer-to-peer learning and efforts will be taken to continue recognizing many more path-breaking efforts towards improved water governance and improving their participation in decision-making processes.
Women Water Champions (WWC) Compendium
This compendium documents the journey of 41 women water stewards in India, recognizing and promoting women's leadership in water governance.
Download the compendium