How do you support decentralization processes in countries with limited resources and capacities, and how do you develop sustainable and affordable tariff systems in impoverished areas?
How do you unite people and institutions in the belief that water and sanitation is a common good that needs to be sustainably managed? These are some of the daunting challenges addressed by the Governance, Advocacy and Leadership in Water, Sanitation and Hygiene programme (GoAL WaSH).
During its ten years, the GoAL-WaSH programme – which in 2019 was succeeded by the GoAL-WaterS programme – was aimed at accelerating achievement of the water and sanitation Millennium Development Goals, and later the fulfilment of the Sustainable Development Goals. The programme was implemented through UNDP Country Offices and partners, and strategically managed by the UNDP-SIWI Water Governance Facility, hosted by the Stockholm International Water Institute. The fundamental principle was that only by enhancing the performance of the drinking water and sanitation sectors in partner countries can effective, equitable, and sustainable service delivery be achieved.
To do this, GoAL WaSH was designed to support the entire process, from initial assessment to implementation, via the development of reform policies, laws, and coordination efforts. Over the years, GoAL-WaSH involved 18 countries from across the world. The focus was fragile or post-conflict countries, where governments showed a commitment to engage in water sector reform to establish effective and equitable service delivery in the long term.
GoAL WaSH global reach
2009 - 2019. Now inactive
project contact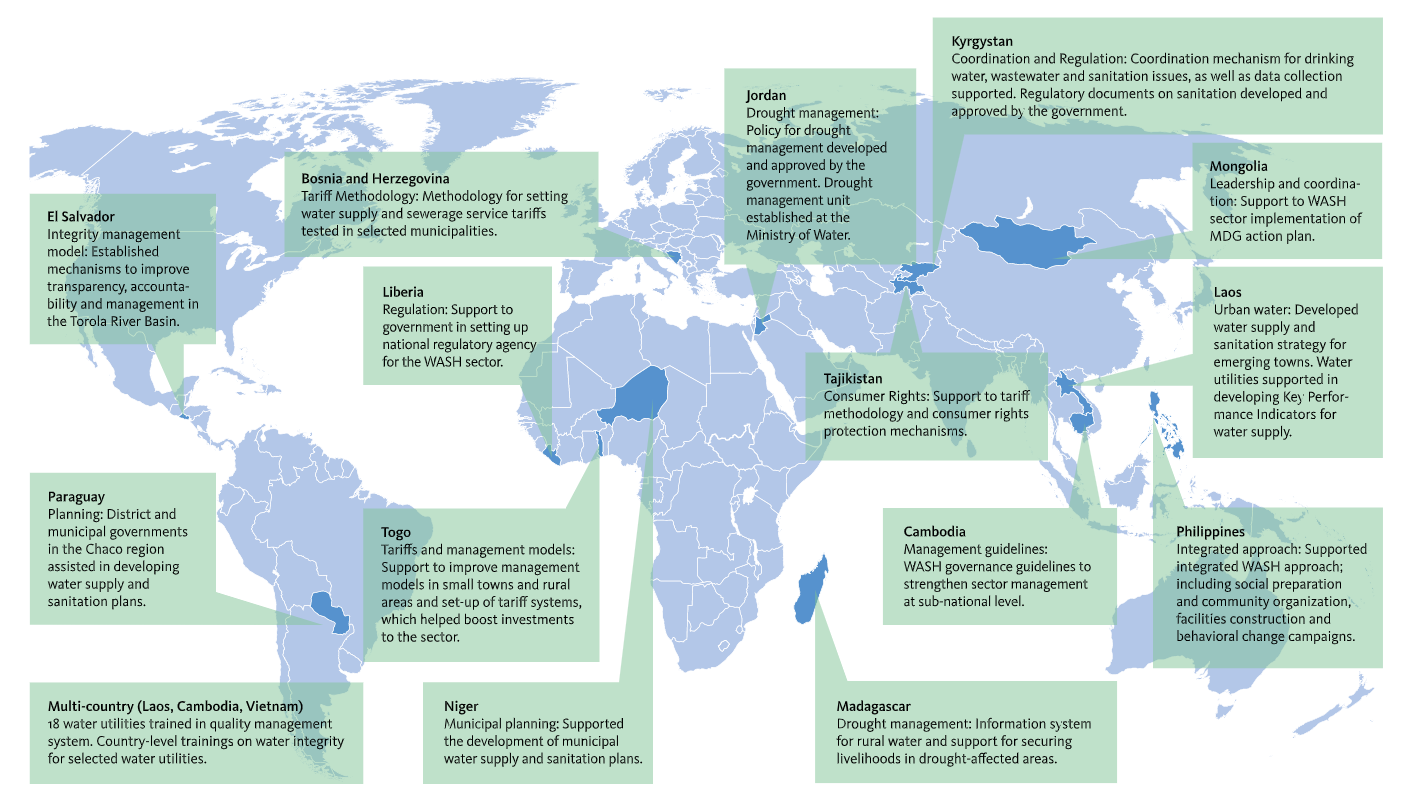 Evaluations have concluded that the GoAL WaSH programme has been able to provide prompt responses and high-quality advice and support to most project countries. This has greatly improved national capacities and opportunities for water and sanitation governance.
In addition to these intended results, GoAL WaSH has provided a number of added benefits and synergies. The programme has leveraged substantial financial investment in water governance in the supported countries, and paved the way for regional and local development, capacity-building, and strategic processes.
"Our utility, NPSE Attapeu, has benefitted enormously from the support of the GoAL WaSH project. Our staff was trained by SIWI and UN-Habitat on water integrity, which exposed us to different tools to enhance organisational accountability standards. Our utility also received comprehensive training and guidance on quality management systems, which resulted in us being the first ISO 9001:2015 certified water utility in Laos"
"This project is unique, and it has united all partners by creating a constructive environment towards cumulative success in the field of drinking water supply and sanitation services. We officially celebrated it by awarding the GoAL-WaSH project in Kyrgyzstan with the Governmental diploma"
10 years with GoAL-WaSH
The brochure presents the main achievements of the programme.
Get the brochure